Integrated Billing Solutions
Sales teams will process billing directly from the RoutesPro App. It's easy and convenient to use.
Confirm personal details and service subscriptions.
Schedule appointments - date and time.
Sign contracts.
It's that simple! New contracts are already available in our database. Our services will be provided on scheduled days.
Start Free Trial
Sophisticated And Fast Routing Tool
RoutesPro is an easy-to-use tool designed for service companies to efficiently manage various activities and provide the best care to customers.
Easy to setup, Easy to use
Our engineers will set up our software and have your organization up and running within 48 hours.
One-Time Payments or Recurring Billing
RoutesPro is ready to process one-time payments or start recurring billing for your customers. Set up automated reminders for the branches and customers.
Contract Template
RoutesPro has pre-built edit-ready templates for you and your business to customize and send.
Multiple Routes
Reach your customers faster
Branch managers can create and manage multiple routes from a single page. Assigning tasks has never been easier.
Assign new routes.
See optimized directions and routing with map view.
Follow technicians' efficiency with route reporting.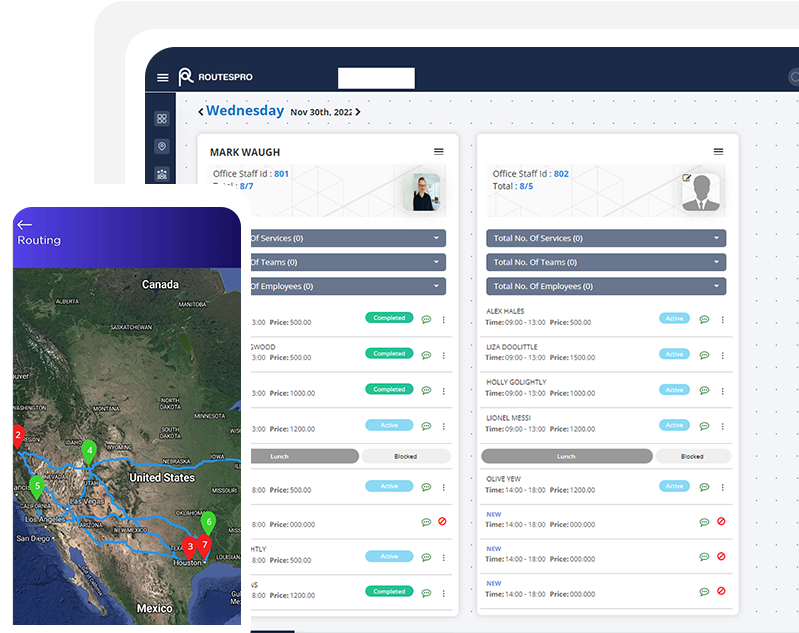 Sales & Technicians Leaderboards
Follow performance and motivate service leaders.
It's important to understand and motivate real performers. RoutesPro generates performance leaderboards for your sales and technicians' teams.
See your office and team statistics.
Follow your employee rankings.
Find summarized service information.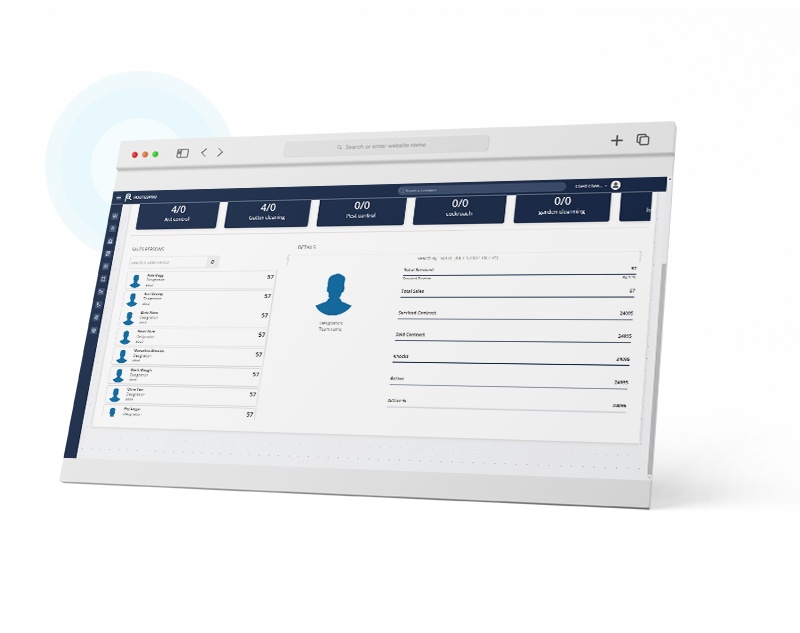 Intelligent Routing
RoutesPro uses AI and Google mapping algorithms to generate the fastest routes for your technicians. For faster service and happier customers!
Smart tracking
Our intelligent software provides smart employee tracking. Know where your employees are during work hours, follow their progress and improve work productivity.
Insightful reporting
It's necessary to understand technicians' performance and the motivation behind it. Follow your team's reports and overall performance in leaderboards.
Integrates with your tools
RoutesPro can effortlessly blend into your workflow. Adapt this software solution with your daily-used tools.
FAQ's
Questions & Answers
RoutesPro is a smart decision for your business. Our developed software can fit a Field Service management company in any industry. It's a product made for pest control, door-to-door knocking business, real estate domain, or many more - you name it.
Managing a Field Service company's activities is a monotonous and time-consuming process. By improving internal operations your company will be able to efficiently organize tasks, optimize overall workflow and achieve better results.
We understand the job behind Field Service management companies. It's not just providing service to the clients, but includes many other different aspects as well. RoutesPro software will help you simplify all daily operations and manage everything in one place.
It's easy! Just request a demo and we will walk you through it. We will be happy to answer any questions you might have. If interested in the product, we offer 14 days of a free trial.
Yes, this software is fully customizable and was developed to suit business processes for any industry needs. Talk with our developers and we will offer you the best solution.
We provide two plans depending on the number of users in your company. For small & medium enterprises we offer a Standard plan, which includes from 100 up to 500 users. For large businesses, we offer an Enterprise plan which includes 500 and more users. Both plans include sales representatives, technicians, & back-office.
Yes, for the convenience of your employees we have created apps for iOS and Android. Now your employees will be able to access all information from their mobile devices, see the fastest routes, have customer sign forms and edit their contact information.
Yes, you can try it for 14 days. We understand the importance of finding the perfect product - contact us and get access.