Mar 06, 2023
If you haven't yet tapped into the benefits of field service management software, this article will show you how this solution is a game-changer for improving workflow and field service productivity.
Let the technology look after details while improving efficiency.
If you are managing a team of field service engineers, you might spend much time scheduling jobs and making sure your technicians are working at their most efficiency for the bottom-line.
But more importantly, how much time and resources are being spent on activities that do not generate revenue? Such as dealing with paperwork and driving back and force to the office… How many variables are there that are out of your control? These are the big and small things that compose your overall engineer productivity.
Think of how many more customer jobs you could fulfill in a year if most of the processes were completely automated.
A great field service management solution can lead to field service optimization and improve customer experience in a number of keyways.
What is the role of a field service engineer?
A field service engineer will perform installations, repairs, and maintenance tasks away from the office, while also:
a) Troubleshooting problems
b) Accurately diagnosing faults
c) Providing technical advice to clients
d) Delivering excellent all-round service
e) Conducting reports
Nowadays, customers expect their problems solved as quickly as possible. To meet their expectations, you must ensure your engineers turn up on time and fix the problem first-time.
How field service management software improves the work of engineers
1. Planning and Forecasting
Even the most advanced field service solution can't predict every result, but it can make it far easier to plan ahead.
Predictability is central to the success of any business. It enables field service departments to achieve the projected demand and recognize service trends while creating predictive models that are based on historical data.
Forecasting and thorough planning eliminate much of the guesswork traditionally associated with field service, and, thus, reduces costs related to insufficient or surplus resources, making changes, and repairs.
Using high-tech software does not only save time - more than half of the planning process gets facilitated by the software itself.
2. Better matching
One of the best ways to dramatically increase service demand is to ensure that the right technician is allocated to the right part of the job. By doing so, you as a field service provider can be sure about the quality of work and the positive feedback (reputation).
Without a clear understanding of the tasks that they need to complete, and the tools required, a technician might find themselves making multiple unnecessary actions. A field service management solution can help cut down on it by making everything clear before heading to the customer's location.
How does it work?
Field service optimization software looks at the list of all service orders, their details, and deadlines. Then, based on the specific requirements of each order, it matches them with the right technicians. The selected worker can then cross-check this list to ensure that they have everything they might need at the client's location.
3. Better routes and time management with built-in GPS
Although field service engineers are paid while traveling from job to job, your company does not earn money until they arrive and start solving clients' issues. So, getting them there in the shortest time not only boosts their productivity and helps to avoid the stress associated with maps and vehicle maintenance but also allows your company to take more orders and scale faster.
As well as tracking performance metrics, you can physically track your engineers when away from the office.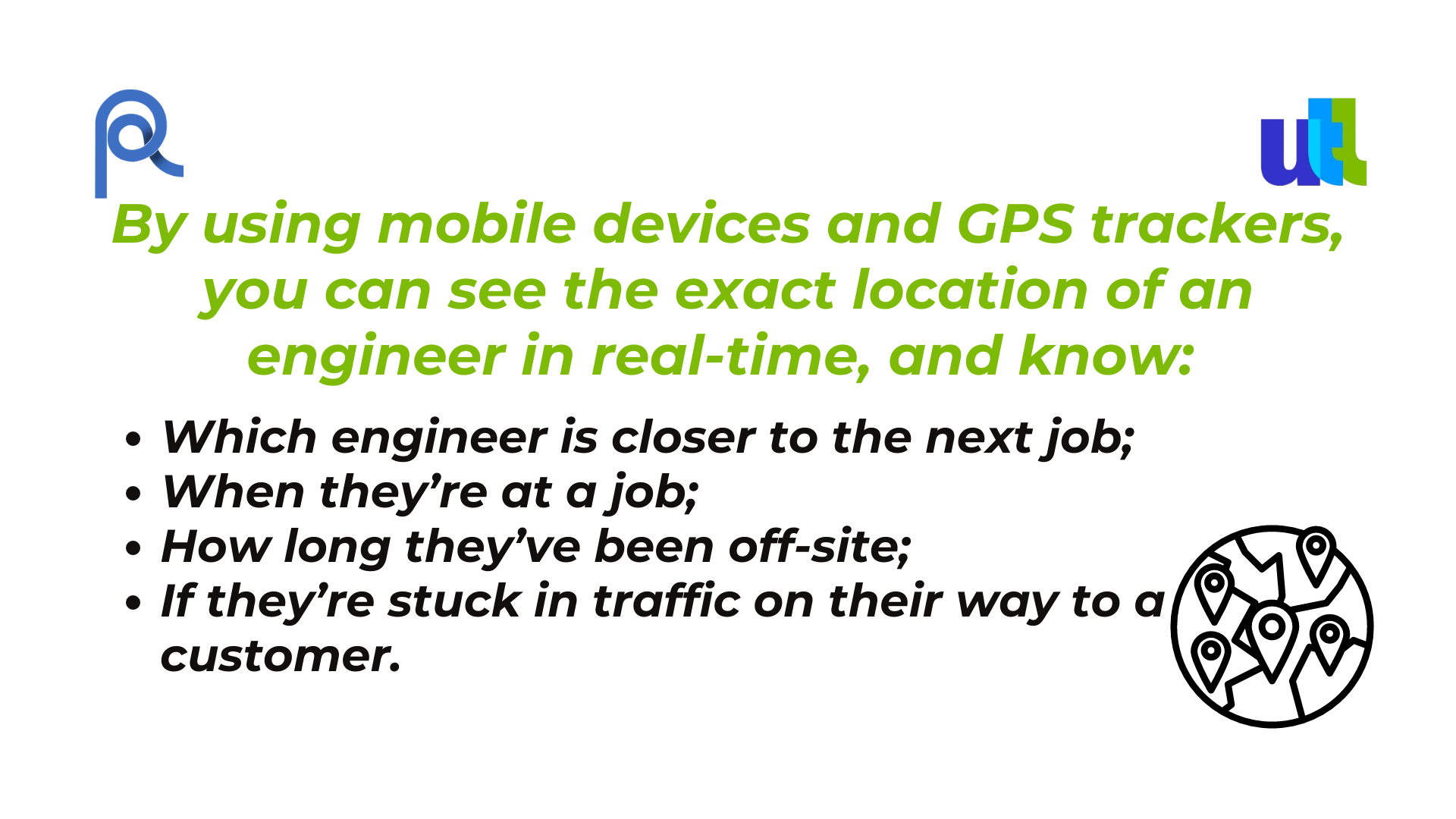 4. Integrated inventory management
Stock and inventory management is one of those hidden yet most challenging parts of field service management. Some materials go directly from the supplier to job locations, while others are ordered into stock, kept in the warehouse, and distributed from there. Without an integrated system, keeping track of the total available stock is often confusing and time-consuming.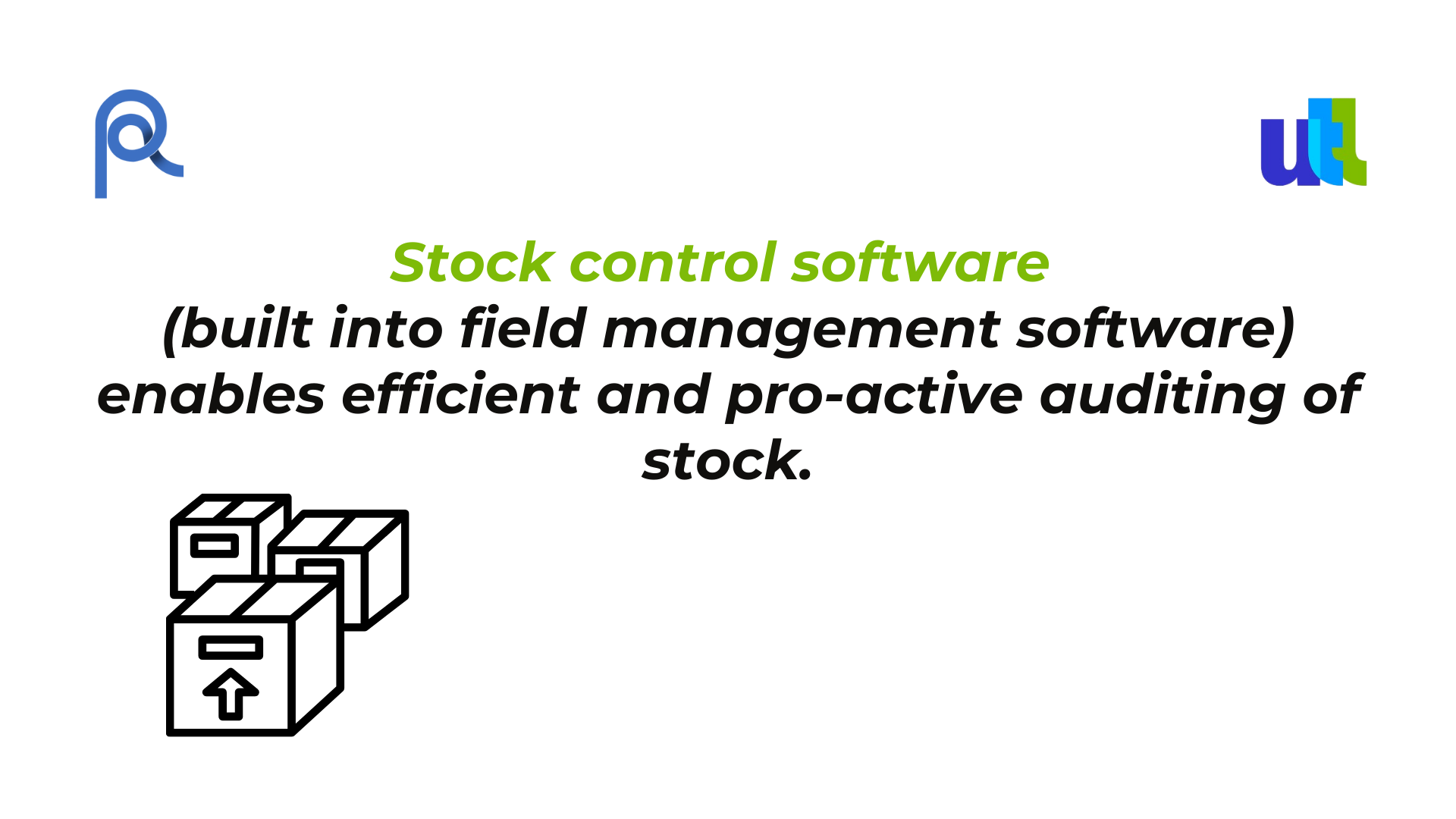 It also allows you to set minimum ordering amounts on stock levels and send triggering alerts to raise purchase orders for suppliers.
An automated system ensures no time is wasted – the Information about the available stock is kept up to date in real-time. Its main benefit is that it eradicates problems of over or under-ordering that often results in losing clients.
5. Everything was done on time
Today's customer expects you to value their time, which means you can't ignore scheduling and making sure your technicians are on schedule. Modern field service solutions can provide a unified view of open work orders, technicians' skill sets, and available resources, which makes it easier to assign the right technician and the right resources to the right job.
Field service optimization software also makes it easy for customers to monitor the status of their repair. The customer can also use mobile functionality to track their technician's current location in real-time using GPS while waiting. This mobile support benefits technicians, as well, since it enables them to check their schedules throughout the day and to ensure that they're always on time for service appointments.
Wrapping Up
No matter what service you provide, the success of each operation depends quite a lot on the performance of your field service engineers.
Essentially, delivering a great customer experience is your responsibility and it requires you to track, monitor, and measure the performance of your engineers in the most efficient way possible. In this article, we've identified the five best ways to truly help the performance of your engineers with the help of Field Service Management Software.
Routespro's innovative and intuitive software brings productivity wins to the workflow of engineers and every other aspect of field service management.
Back